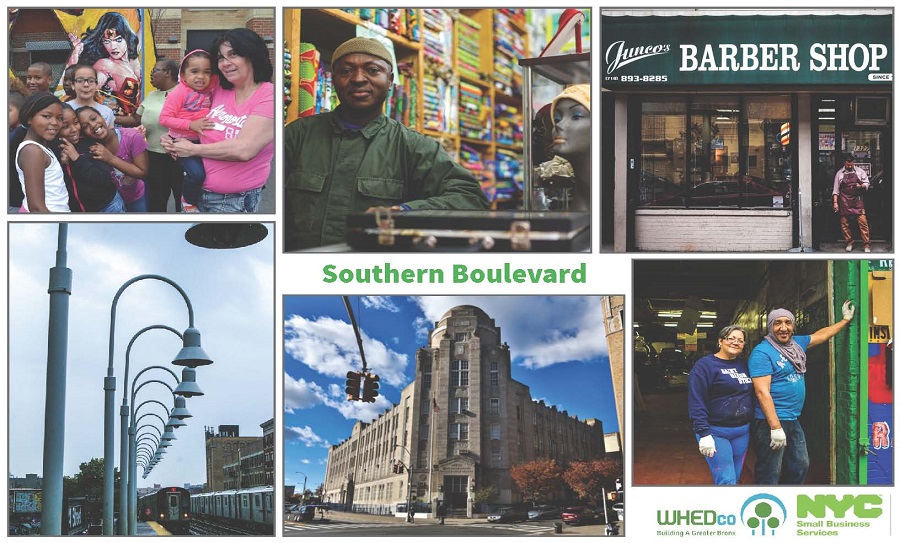 WHEDco collaborates with local merchants to build a more vibrant business district in the Crotona Park East neighborhood surrounding our Intervale Green building. More than 45,000 people live within a half-mile of the Southern Boulevard commercial corridor between E. 174th Street and Westchester Avenue at Simpson Street. Our Community Development team helped launch the Southern Boulevard Merchant Association (SBMA), which works to attract more local shoppers to area businesses and bring new businesses to vacant storefronts in response to local needs.
WHEDco works with residents, community partners, City agencies, and the Merchant Association to advocate for improvements, beautify the neighborhood, improve safety, organize community events, and increase foot traffic.
WHEDco is partnering with the NYC Department of Small Business Services (SBS) to evaluate the needs of businesses, shoppers, residents, and those who work along Southern Boulevard, Boston Road, 174th Street, and Westchester Avenue through a Commercial District Needs Assessment (CDNA).
Fill out a brief survey to tell us what you believe is important to ensure a more thriving Southern Boulevard area. You will help inform programs, initiatives and advocacy efforts to improve the quality of life of those who live, work, own and do business here.