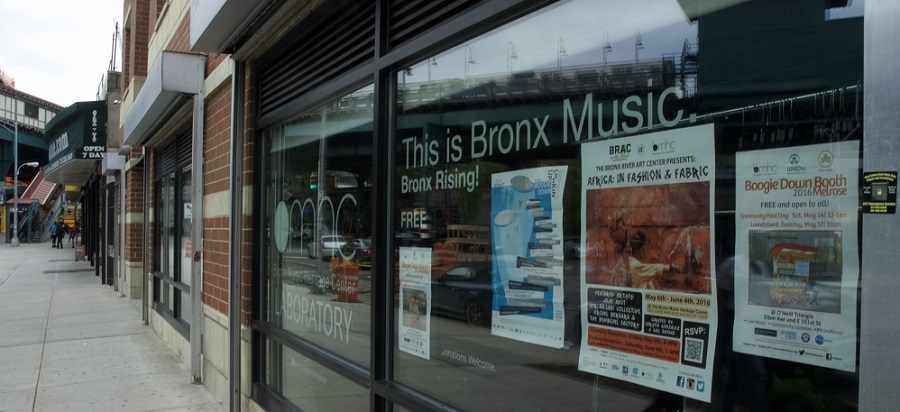 The Bronx Music Heritage Center (BMHC) celebrates the rich history and creative spirit that defines Bronx music, from jazz, salsa, R&B and hip hop to new sounds coming to life across the borough.
Founded by the Women's Housing and Economic Development Corporation (WHEDco), the BMHC is committed to preserving and promoting Bronx music, cultivating Bronx artists, spurring neighborhood revival, and providing free cultural programs for the community.
Bronx Music History
Fifty years ago, cutting-edge music proliferated in the South Bronx: Donald Byrd, Herbie Hancock, the Chantals, Dion & the Belmonts, Willie Colón, Valerie Capers, and others launched their careers in the Bronx. In the 1970s, as arson, redlining, and disinvestment decimated the area, a new generation of local innovators – including Grandmaster Flash, Cold Crush Brothers, KRS-ONE, and many others – sparked the hip hop movement. The BMHC was created to restore pride in this legacy and inspire the next generation of Bronx artists.
Current Programming
Currently, programming takes place at the BMHC's temporary home in the Crotona East neighborhood at 1303 Louis Niñé Boulvard, Bronx, NY 10459. Guided by the BMHC Music Advisory Board – which includes Grammy winners, music historians, artists and community members – BMHC is a performing arts and community center for incubating new work, cultivating a community of artists, and bringing together audiences to celebrate Bronx music.
BMHC Programs include live music performances, readings, film screenings, educational art programs, art installations and music history trolley tours of the neighborhood.
Coming Up!
Bronx Commons will break ground in the Melrose Commons neighborhood in 2016. The cultural centerpiece of the development, the Bronx Music Heritage Center, will showcase the forgotten music history of the borough, while catalyzing economic development in the surrounding area.
The Bronx Music Heritage Center will include:
300-Seat Flexible Performance Space
Digital Archives
Public Exhibition Space & Art Installations
Rehearsal and Recording Studios
Community Arts Workshops
Get involved!
Visit the BMHC Lab!
Stop by and and check out our free arts programs! To get to the BMHC Lab, take the 2/5 train to Freeman Street, or the BX19 bus to Southern Boulevard and Freeman Street. Walk north on Southern Boulevard and make a left on Louis Nine Boulevard. The BMHC Lab is halfway up the block on your left, at 1303 Louis Nine Boulevard.