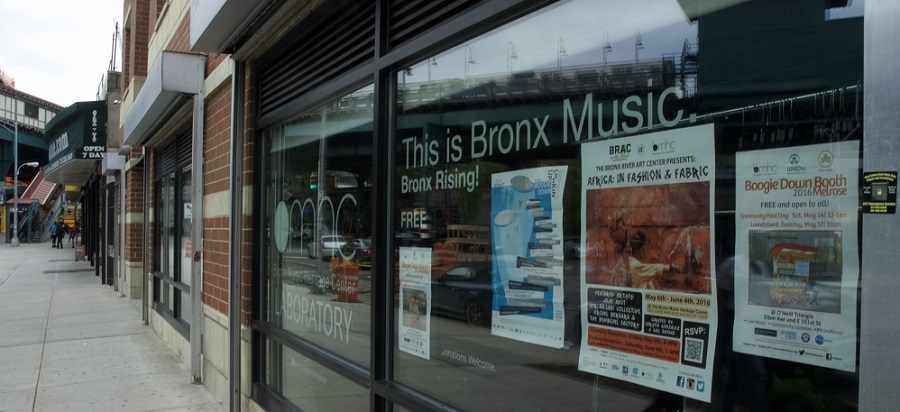 The Bronx Music Heritage Center (BMHC) celebrates the rich history and creative spirit that defines Bronx music, from jazz, salsa, R&B and hip hop to new sounds coming to life across the borough.
Founded by the Women's Housing and Economic Development Corporation (WHEDco), the BMHC is committed to preserving and promoting Bronx music, cultivating Bronx artists, spurring neighborhood revival, and providing free cultural programs for the community.
Current Programming
Currently, programming takes place at the BMHC's temporary home in the Crotona Park East neighborhood at 1303 Louis Niñé Boulevard, Bronx, NY 10459. Guided by the BMHC Music Advisory Board – which includes Grammy winners, music historians, artists and community members- the BMHC is a performing arts and community center for incubating new work, cultivating a community of artists, and bringing together audiences to celebrate Bronx music.
BMHC Programs include live music performances, readings, film screenings, educational art programs, art installations and music history trolley tours of the neighborhood. The BMHC also produces various programs in partnership with many Bronx and city-wide organizations, including El Maestro Cultural Center, Casita Maria, Bronx River Arts Center, BX Arts Factory, 5 Boro Storytelling, City Lore, Garifuna Coalition, 52 People for Progress, Duke Ellington Center for the Arts, Bronx Documentary Center, and Los Pleneros de la 21.
Coming soon – Our permanent home in the Bronx Music Hall!
In 2017, WHEDco broke ground on Bronx Commons, its third affordable housing development, which will serve as the permanent home for the Bronx Music Heritage Center. The cultural centerpiece of the development, the Bronx Music Hall, will showcase the forgotten music history of the borough, while catalyzing economic development in the surrounding area.
Visit the BMHC Lab!
Stop by and and check out our free arts programs! Take the 2/5 train to Freeman Street, or the BX19 bus to Southern Boulevard and Freeman Street. Walk north on Southern Boulevard and make a left on Louis Nine Boulevard. The BMHC Lab is halfway up the block on your left, at 1303 Louis Nine Boulevard.
Rent the BMHC Lab!
The BMHC's 1,400 square foot facility is available for rent by artists, community groups, and other commercial entities.  Click here to learn more about pricing and availability.
Get involved!