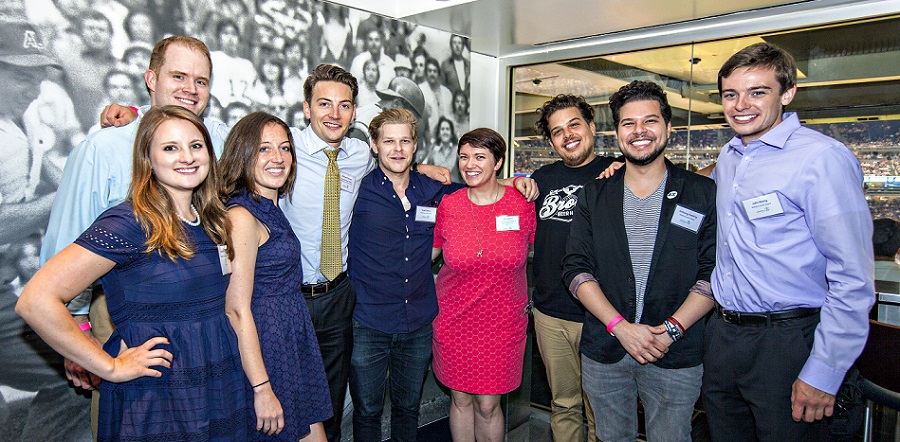 WHEDco's Associate Board is a growing group of young professionals in their 20s and 30s who are passionate about WHEDco's mission to create thriving neighborhoods for families in the South Bronx, the nation's poorest urban Congressional District.
The Associate Board supports this mission through a number of volunteer and fundraising projects around WHEDco's work in areas including: education and youth development; urban farming and healthy living; commercial revitalization and small business development; and arts programming.
The Associate Board plays a strategic role in developing awareness of WHEDco's programs, and providing opportunities for WHEDco's growth by leveraging social media, events, and individual fundraising to support overall goals. Associate Board members have opportunities to create, plan and participate in service activities (volunteer days, volunteer drives, awareness campaigns, etc.); help plan and host fundraising events (happy hours, crowd-funding campaigns, etc.); and interact with WHEDco staff and Board of Directors. Learn more about the Roles & Responsibilities.
Subscribe to WHEDco's e-list and follow us on Facebook to receive updates from the Associate Board, and learn about the next opportunity to apply!!
Contact Meredith Leverich at mleverich@whedco.org or 718.839.1157 for more information.
---
Members
Lovie Arthur
Lovie is an Operations Coordinator at Community Solutions, where she plays a critical role in overseeing key administrative, HR, and financial-related tasks. She is no stranger to being a part of a non-profit that assists on ending homelessness. Prior to joining the Community Solutions team, Lovie was a Business Manager for The Doe Fund's Community Improvement Project where she managed multi-million dollar budgets and contracts. She also oversaw their new sanitation department which created jobs for the graduates of the program. Lovie holds a bachelor's degree from Hunter College and has been a resident in the South Bronx community for over 15 years.
Danielle Ash
Danielle is an associate in the Real Estate Department of the law firm of Duval & Stachenfeld LLP. In her role, she represents a diverse group of real estate developers, family offices, equity funds, mortgage and mezzanine lenders in a wide variety of commercial real estate transactions in New York and throughout the United States. She is also a member of the New York City Bar Committee on Housing and Urban Development, which addresses legal and policy issues on affordable housing preservation and development in New York City. She received her J.D. from New York Law School, where she was a scholar in the school's Center for Real Estate Studies and her Bachelor's from Columbia University in the City of New York, where she majored in Urban Studies. She is a life-long New Yorker – born and raised on the Upper West Side, where she still resides.
Jesse Baumgartner
Jesse is a licensing manager in the Office of Technology Development at Memorial Sloan Kettering Cancer Center, where he works to identify, develop and partner promising research. Prior to that, he spent 4.5 years as a financial communications consultant for early-research stage biotech companies. Jesse has also worked as a journalist and in Democratic politics, including Senator Patty Murray's successful re-election campaign in 2010. He graduated with a B.A. in History/Journalism from the University of North Carolina at Chapel Hill, and is also a CFA charterholder.
Becca Broches
Becca is an Equal Justice Works Fellow, sponsored by the Ottinger Foundation. She joined the legal program in September 2015 to work with Start Small's food business clients. Prior to joining Start Small, Becca clerked for Justice Ariane Vuono on the Massachusetts Appeals Court. She has also worked as a student attorney at the Harrison Institute for Housing and Community Development, where she represented tenant associations, and as an intern at the Legal Aid Society of the District of Columbia, the Public Defender Service for the District of Columbia, and the Urban Justice Center. Prior to attending law school, Becca was a paralegal for the law firm, Morvillo, Abramowitz, Grand, Iason, Anello & Bohrer, P.C.. She earned her BA from Wesleyan University and her JD from Georgetown University Law Center.
Bret Collazzi
Bret is a Principal at HR&A Advisors, Inc., where he advises governments, nonprofit institutions, and private property owners on transformative urban development strategies, including growing local tech and innovation economies. At HR&A, he has worked with a broad mix of clients, managing NYC BigApps, the world's largest civic tech completion; developing a real estate strategy for The New York Public Library; and guiding investment strategies for the Lower Concourse neighborhood and the Hunts Point Cooperative Market, both in the Bronx. Prior to HR&A, Bret was deputy chief of staff to New York City Council Member James Vacca, where he oversaw policy and communications, and was managing editor of the Bronx Times Reporter, the Bronx's largest-circulating newspaper. He holds an M.B.A. from Cornell University's Samuel Curtis Johnson Graduate School of Management and a B.A. in Journalism from New York University. He is a native of the Country Club section of the Bronx.
Kate Gallagher
Kate is a Marketing Director at a Healthline, a company with a mission to create a stronger, healthier world through empowerment, connections, and understanding. Kate has worked in the digital health industry for over 6 years, including at Rodale and Digitas Health, and prior to that, was a non-profit fundraising consultant. She's a long–time supporter of an international organization that focuses on the financial and physical health of women in developing countries. Kate holds a BBA from The George Washington University.
Triveni Gandhi
Triveni is a data analyst with New Visions for Public Schools. Previously, she conducted an independent research program in Rajasthan, India, where she designed, tested and implemented an original survey instrument across 64 villages. She holds a Ph.D. in political science from Cornell University and an M.A. in global finance, trade, and economics from the Joseph Korbel School of International Relations.
John Kenny
John Kenny is an analyst at Barclays. As part of the firm's graduate program, John spent one year working in regulatory reporting before joining the commodities group, where he has worked since 2014. He sits on the Americas Finance Citizenship Committee at Barclays. John founded and has organized a seven day, 130 mile walk from Montauk to Brooklyn for three consecutive years to raise funds and awareness for the Developmental Disabilities Institute. John received his BS summa cum laude from St. John's University in 2013, where he graduated first in his class in the Tobin College of Business.
Daniel Lipschutz
Daniel is an attorney at Aronson Mayefsky & Sloan, LLP. He received his Bachelor of Business Administration with honors from the George Washington University with a dual degree in Finance and Marketing, and received his Juris Doctorate from Benjamin N. Cardozo School of Law with a concentration in Family Law. Daniel has served as a judicial intern to the Honorable Jane Pearl, supervising Judge of Kings County Family Court. Since his admission to the bar, Daniel has been practicing exclusively in the areas of matrimonial and family law and has appeared in the appellate, trial and family courts. Daniel's undergraduate degree in business administration and finance coupled with his extensive background in matrimonial and family law matters creates a distinctive skill set that has proven effective in tackling the most complicated fact patterns. He is known for his well-reasoned and thoughtful, yet relentless approach to the practice of matrimonial law.
Michael Paranac
Michael has been a volunteer tutor with the WHEDco Teen Program since 2013, specifically helping high school students with homework, test preparation, and all aspects of the college admissions process. He currently works in real estate development after several years in finance. He is also an active supporter of StrikeOUT Cystic Fibrosis and previously volunteered with the Morgan Stanley Children's Hospital at New York Presbyterian. He graduated from Columbia University with a B.A. in History, and is pursuing an MBA at Columbia Business School.
Anthony Ramirez II
Anthony Ramirez II is the Co-Founder and Chief Operating Officer of Mainland Media. Anthony grew up in the Parkchester section of The Bronx. After graduating with a BA in Economics from Columbia University, he moved back to The Bronx to administer after school programs for The South Bronx Overall Economic Development Corporation's (SoBRO) Youth Development Center. Most recently, he worked with The NYC Department of Youth and Community Development (DYCD) as the Director of Youth Connect, a highly-acclaimed information & referral service which connects youth and families to services throughout the City, and managed the agencies digital outreach. Anthony co-founded Mainland Media and its subsidiary From The Bronx in March 2006 with a mission to help improve the image of the Bronx, New York and to prove to the world that the Bronx is as rich with culture and history as any other place in the world. Mainland Media opened The Bronx Beer Hall in February 2013 to further its mission.
Paul Ramirez
Paul Ramirez is a Managing Partner with Mainland Media. Paul was born and raised in the Parkchester section of The Bronx. He received his BA in Philosophy with a specialization in Ethics and Public Policy, and a BS in Music from The Bronx's own Lehman College. Shortly after graduation, Paul worked as the Deputy Director of Wildcat Service Corporation's Young Adult Internship Program (YAIP).YAIP provides young adults with 14 weeks of paid orientation, training and work followed by 9 months of follow-up services and assistance for placement in permanent jobs, training programs and educational opportunities. While working as the Deputy Director of YAIP, Paul also managed several Bronx-based musical acts, including The Steven Oquendo Latin Jazz Orchestra. Paul joined Mainland Media and its subsidiary From The Bronx in June 2010, and opened The Bronx Beer Hall in February 2013.
Kimberly Thibault
Kim is a corporate associate in the Mergers & Acquisitions practice at the law firm Weil, Gotshal & Manges, LLP. In her role, she represents public companies, private companies and private equity funds in mergers and acquisitions, leveraged buyouts, restructurings and general corporate matters. She received her JD from The University of Michigan Law School. During law school, Kim worked with Michigan Law's Community and Economic Development Clinic, where she advised organizations in the Detroit area, including Detroit Black Community Food Security Network on the organization of its food cooperative. She holds a Bachelor's degree in Building Construction from The University of Florida, where she received her LEED accreditation and studied sustainable building practices.
Emerita Torres
Emerita is a political advisor at the U.S Mission to the United Nations, where she works on counterterrorism and human rights issues in the UN Security Council. Emerita has nearly a decade of international affairs experience as a U.S. Foreign Service Officer, working in political, economic, labor, and multilateral positions, and has served in South and Southeast Asia, Latin America and Africa. Emerita received her Master's in Public Policy from the Harvard Kennedy School. While at Harvard, she was the co-Editor-in-Chief of the Harvard Journal of Hispanic Policy, volunteered for the Barack Obama presidential campaign, and was a teaching fellow for a community organizing course, which inspired her to become an organizer and train others on how to build community power through organizing. Emerita received her undergraduate degree in history from New York University. Emerita is originally from the Castle Hill/Soundview area of the Bronx. She is passionate about health and wellness; Emerita is a certified group fitness instructor, a Brazilian Jiu Jitsu practitioner, and has led nutrition workshops in her community.